2008 - 2009 -2010 -2011 - 2012
Brussels (Belgium) 18-12-2010
Garbosa became Belgian Winner 2010!!
Welcome Frodo!!!! 13 -12-2010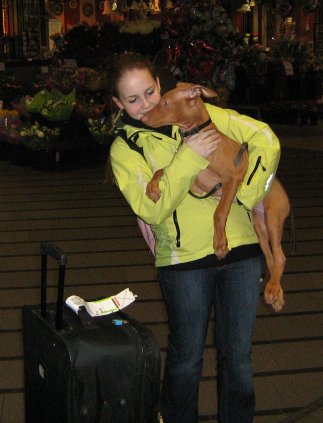 Amsterdam (The Netherlands) 28-11-2010
Andaluz gained himself another title, Amsterdam Winner 2010!!! Thanks to the judge Mr. Dupas (Fr)
Kortrijk (Belgium) 21-11-2010
Andaluz won BOB today!! Thank you Mrs. Mach (CH)
Celje (Slovenia) 2-10-2010
Andaluz became BEST OF BREED at the EDS!!! Also he was in the TOP 6 in the group finals! Still can't believe he did this in such a strong group! By this he became European Champion 2010 and Slovenian Champion! Garbosa was vice European Champion! Thank you to the breedjudge Mrs. Ubrova (Cz) and to the groupjudge Mrs. Molinari (P) !!!
Velenje (Slovenia) 1-10-2010
Garbosa won BOB at the clubshow of the EDS circuit! Andaluz was BOS!
Both are now Slovenian Sighthound Club Winners 2010! Thank you Mr. Makaritis (Greece)!!!
Fredericia (Denmark) 23-06-2010
Andaluz won BOB at the circuitshow of the WDS!!With this he became Danish champion!!
Thank you Mrs. Ahrens (I)!!!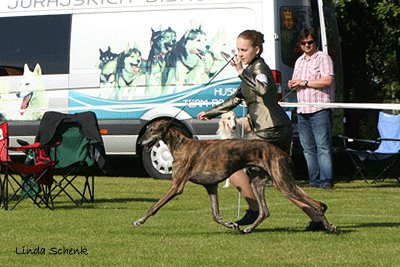 Ostercappeln (Germany) 19-06-2010
Garbosa won BOB & Landessieger 2010!!!
Thank you Mr. Buitenkamp (B)!!
Hulten (The Netherlands) 05-06-2010
Andaluz was res. BOG at the international show in Hulten!!! Lola BOS!!!
Thank you very much to the breed & group judge Mr. Van Iersel (NL)
24-05-2010 Saarbrücken national
Andaluz was BOB & VDH Saar Sieger 2010!!
Thank you to the judge Mr. de Haes (B)!!!
23-05-2010 Saarbrücken international
Andaluz won reserve Best of Group & Saarland Sieger 2010!!!
It's now 3 years in a row he's BOG2 in Saarbrücken!!!
Thank you to the breedjudge Mrs. Delabelle (B) and the groupjudge Mrs. Assenmacher-Feyel (D)
09-04-2010 Monaco
Andaluz won BOB and was selected in the pick out of 4 in the group (only the winner was chosen). Thank you very much to the breedjugde Mr. Bodegard (S) & the groupjudge Mrs. Mach (CH)!!!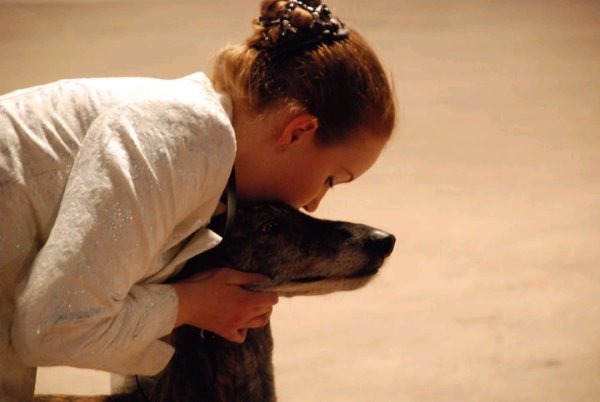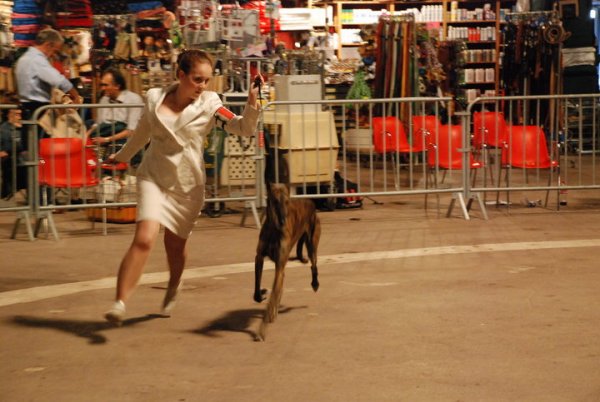 27-03-2010 Luxembourg
Today Lola became Luxembourg Youth Champion!!! Thank you Mr. Catalan (P) for her first champion title!!!
20-03-2010 Leiden
Lola was BOB today!!! we're so proud of our baby-girl!!!
Thank you Mr. Rehanek (CZ)!!!
14-03-2010 Crufts
I had the great opportunity to go to Crufts with Anne-Marie Hoogendijk and show her irish red & white setter! Thank you Anne-Marie for the beautiful weekend!!!
Taniswood Wicked Lady (Jane) became 2nd in limit bitch!She was far the youngest in her class, her mum won the class :-)
Tullamore Tartan (Brion)
I also handled Jane's sister for their breeder! Taniswood Little Gem (owner: Brown-Goldsmith) became 3rd in post graduate bitch!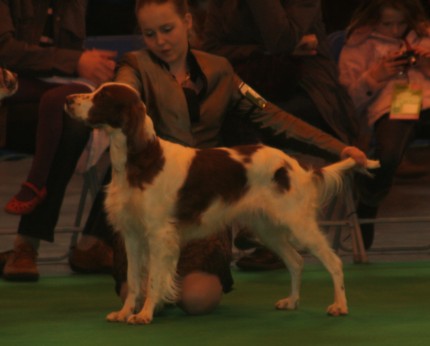 06-03-2010 Raduno for the spinone italiano, Italy
I've travelled to the Raduno show for the spinone italiano in Italy, one of the most important shows for the breed, and I had the great honnor to show the amazing dogs of the Stannamore familly from Annette Wijnsouw! We came home with amazing results!!! Annette, thank you for entrusting me this fabulous guys!!
Stannamore Bellina Ninna Isabel "Isabel" became best female!(It's the first time a non-italian dog is winning best of opposite!!!)
Teazledown Beach Boy "Thomas"
1ste place in puppy class dogs white/orange
Stannamore Contessa Anna Isabel "Anna"
1ste place in junior class bitches white/orange
Stannamore Birbante di Cicero "Joost"
1ste place in open class dogs roan/marrone
After an amazing year with Andaluz's Best In Show at the frontpage and new titles for Garbosa and Andaluz, we're looking forward to 2010!